Trade Show Table Covers, Cloths, Skirts & Runners
Choose from hundreds of colors or custom design your own full-color Table Throw, Table Cloth or Table Runners. We can print your company's custom logo or Pantone colors on our extra heavy 8oz fabric. Upgrade your Trade Show Display and Booth with one of our custom Tablecloths or custom-fitted Table Covers and enjoy all the benefits of a Giant printing fabric display.
Enhance your Trade Show Booth!
Our trade show Table Covers are easy to set-up, tear-down and travel. Our Table Covers are machine washable, light weight, wrinkle resistant and are made with Tested & Approved Fire Retardant Fabrics.
Unlimited, CMYK or Pantone colors all For The Price Of One Color
Stand Out In The Crowd!
Giant Printing can help you get the attention you deserve!
Trade Show Table Cloths are the first iconic piece your prospect sees out front competing for their attention. They're going to decide in that instant to keep on walking or talk to you.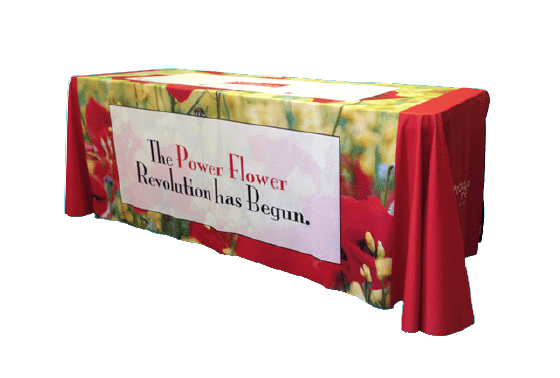 Trade Show Bar Height Table Covers & Shipping Case Covers
Upgrading from the standard Trade Show Table to a Bar Height Table?
Our Custom Printed Bar Height Table Covers can transform your table into a billboard. Potential customers will walk down the aisle, and the first thing they see is your table. Grab their attention right away with a striking graphic or bold call to action message. These covers are custom made to fit any 4', 6' or 8' trade show table.
Getting a 20' Booth? Order two 6' Bar Height Tables, push them together and have us make you a custom made 12' Bar Height Table Cover.
If you only want to cover the front side of your table, we can make you a custom Table Wrap with sewn-on Velcro. Tested & Approved Fire Retardant Table Covers!
Custom Made to Fit Any Table
2-Sided Banner Displays
Have A Corner Booth?
Our 2-Sided Banner Displays allow you to attract potential customers coming from any direction.
These banner displays pack into a supplied small canvas case for easy transport during travel.
Your website and brochure content could be displayed on your banner display, which allows you to truly brand yourself beyond a logo. Tested & Approved Fire Retardant Fabric Displays!
Our banner display graphics are machine-washable and wrinkle resistant.
Graphics can be easily replaced after you buy the display.
Our Table Cloths and Table Runners can be sized to fit any table.
With our expandable print area, you can put your company's product, logo or message on the front, top and both sides. Giant Printing's 2-step printing process produces the highest quality image transfer for the absolute best Trade Show Table Cloths and Table Runners.
Contact us for a Price Quote.
Our Table Covers Never Crack, Peel Or Chip…
We Guarantee It!
Quality is always guaranteed with Giant Printing!
Once you cross that threshold of having a worn out Tablecloth with cracked printing, it reflects on you and your products. All of our covers are machine washable.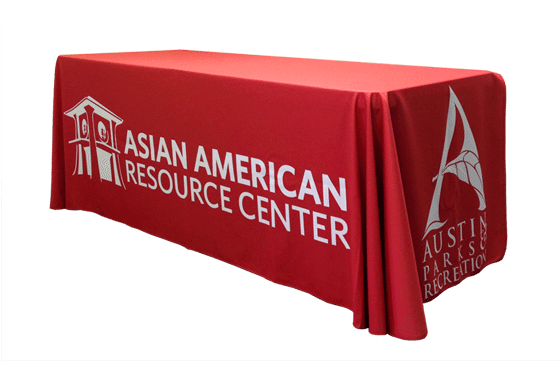 Fabric Trade Show Backdrops
A Booth In A Bag!
From Suitcase To Setup In Just MINUTES!
Our High Quality Printed Backdrops, Weigh Less Than 5lbs and Attach In Minutes To The Show Supplied Pipe & Drape…. With No Grommets!!! Better than vinyl backdrops, better than canvas backdrops, better than muslin backdrops, probably better than anything you have ever seen! Our printed cloth fabrics are so durable you can throw them in a washing machine and come out wrinkle-resistant. Try that with your current display.
Tested & Approved Fire Retardant Fabric Displays!
Upgrade to our Unique Grommet-Free Backdrop system and like many of our happy customers enjoy 30-40% or more in both sales and leads!
Trade Show Table Cloths & Table Runners
The best table covers start with fire-resistant polyester-based fabric. When it comes to Trade Show Table Cloths or Table Runners, some fixate on price and go with "off the shelf colors" or what is referred to as random colored fabrics or inks that cause chipping and peeling. Tablecloths are no place to cut corners.
We take what you've worked so hard to develop and design and apply it to your cover. Choose from hundreds of colors or custom design your own brand with your Pantone (PMS) color, Jpeg, Tiff or PDF File.
Our Table Covers can be sized to fit any table and like most of our other products, are machine washable, light weight, wrinkle resistant and fire retardant. Be it a Table Cover, Table Throw, Table Skirt, Table Runner, Tablecloths, Retractable banner, Round, Square or Fitted Tablecloth, your prospect's first impression is the reflection of this investment you'll make. Make it a high-quality Giant Printing Fabric Display!
Planning to show at a convention, exhibition or job fair? Giant Printing has you covered.
View our Custom Printed Table Covers Gallery.